Reconstruction after the Kobe Earthquake



Pipe shoring system of 500kN(50tf) permissible vertical resistance. This system played an active role in the post Kobe Earthquake. Concrete slabs formed a Viaduct for temporary support of staging erections on steel beams. Various heavy construction supports are just a few examples of its usage.









- Large-scale prefabrication can be done on the ground making it easier to work at high elevations. Transportation within the construction site allows less man-hours of assembly and disassembly as well as shortening the construction period.

- All joints are made with dowels to facilitate the insertion of pins and bolts with safety even for the first-timers.







| | |
| --- | --- |
| | - Main post, high tensile strength pipe (STK500 equivalent), alone withstands the vertical resistance of 500kN (50tf). This high-precision verticability offers an ideal piping shoring system especially where heavy structures needs support. |







- Inclination of slabs can be adjusted with head spindles (386-905mm(1245mm)) or using the inclined stands.

- Base jack at the base can be adjusted 310-480mm height. It is also to tilt 4% of the slab's inclination.

- The pitch between the main posts is set at 1.5m, 2.0m, 2.5m, and 3.0m. For heavy structures, shoring can be set at every 0.5m intervals.







| | |
| --- | --- |
| | - Middle floors provide horizontal joints to be used as hand railings giving workers a safer environment for assembly. |
Middle floor board instructions

A board (middle floor) 940mm down from the top of the main post enables safe assemble (disassemble) of RöRo blocks at elevated levels.

Refer to Chart 1. and Chart 2.

(*Aluminum middle floor boards are laid out by hands whereas EG floor boards are craned in at once to be laid out)







| | |
| --- | --- |
| | Oil pressure disassembly jacks of the RöRo Series piping allows easy release of pressure on construction bodies at the time of disassembly. |
Disassemble jack instruction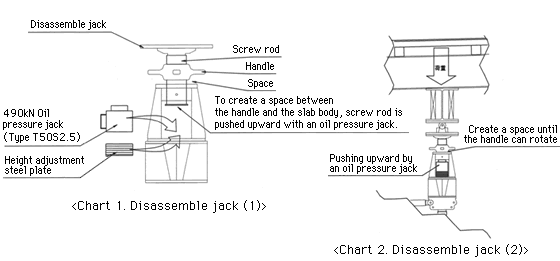 The screw rod is independent from the slab body and it can be moved either upward or downward. Screw rod is pushed upward using an oil pressure jack to create a space between the handle and the slab body and by rotating the handle. Then, with careful adjustments on the pressure of the jack, the release of the pressure can be achieved.







| | |
| --- | --- |
| | - Attaching rollers on the base jack allows easy transport of the shoring structure. |
Horizontal transport of framing system (Flash - Japanese only)

Horizontal transport of direct supporting system (Flash - Japanese only)