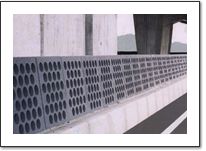 National road 302 in Nagoya, Aichi Prefecture



As the standard of living is becoming higher year-by-year, people are more conscious on their living environment and its management. Traffic Noise prevention is a good example of this. Our newly developed sound absorbing panel, 'Hi silent' is an innovative sound-absorbing product utilizing the unique characteristics of porous concrete.
Hi silent absorbing panel was first applied to 1996 technical evaluation system contest hosted by the Construction Ministry of Japan and was tested in various settings to meet the standard requirements. In the following year on June 3,1997, hi silent sound absorbing panel received a certified evaluation signed by construction minister.
We have added onto our list a product using the recycled glass cullet in 2000. This product was officially recognized by Japan Environment Association under the eco-mark (recycle) program.