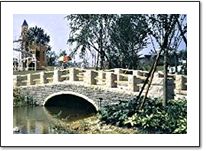 Himawari-no-oka(Sunflower Hill), Ono City



CON/SPAN® construction is a bottomless arch culvert bridge with a two-hinge structure. Factory production of precast concrete ensures the high quality and durability.
Mainstream of Japanese a short-span bridges have straight-lined design to prioritize the function. Although, we propose a rational and beautiful construction method with its curvy but boxy design to adapt to the surrounding landscape.



NETIS registration number CG-020004