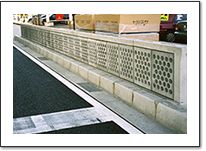 National road 41 in Nagoya, Aichi Prefecture



Air pollution problems triggered by the increase of vehicle traffic in recent years are a big current social issue in the 21st century. We are endeavoring to be a comprehensive planner for noise reduction (installing low noise barrier panels) for center dividers for roads and partition panels for sidewalks.
'B-Silent' is a product, a compound of precast concrete product and noise absorbing panels (porous plate), for noise reduction with a high capability of noise absorption. This is specially systemized for the usage in the structures such as street dividers that come in two forms, panels and roadside planters.